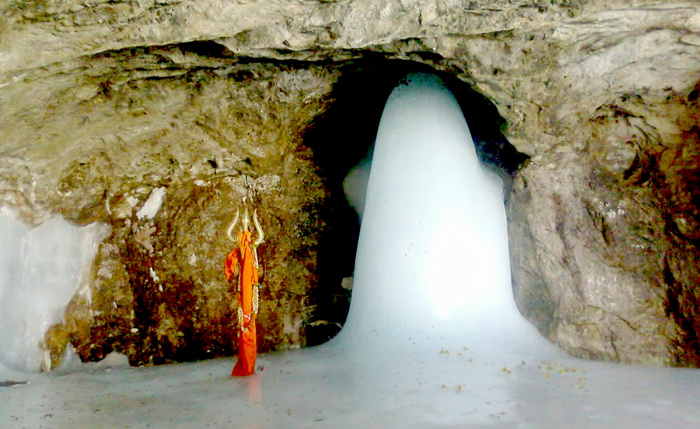 Name: Amar Nath Yatra
Duration: 4 Nights / 5 Days
Location: Srinagar
Amarnath cave is a famous shrine in Hinduism located in the Indian state of Jammu and Kashmir. It's dedicated to Shiva. The cave can be found at an altitude of 3,888 m (12,756 ft), about 141 km (88 mi) from Srinagar, the main city of Jammu and Kashmir and reached through Pahalgam town. The shrine forms a fundamental part of Hinduism, and is considered to be one of the holiest shrines in Hinduism.
The cave is encompassed by snowy mountains. The cave is covered with snow most season except for a short period of time in summer when it's open for pilgrims.The Tarra (pilgrimage) by walking to Amaranth Cave, thought to be one of the holiest naturally occurring shrines of the Hindu faith, is performed annually past more than a century. Extending up 130 feet, the Amaranth Cave is towering and shallow.
History of the Amarnath Yatra in Jammu:
There is a myth associated with the Amarnath Yatra. This saga starts with the intention of Lord Shiva to narrate the key of immortality to Goddess Parvati. To do this, he started on his journey to Amarnath as well as on his way left all he'd to ensure that no one listened to the key.
He left his bull referred to as Nandi at Pahalgam. He also released the moon from his hair at Chandanwari. Lord Shiva unconfined his snakes around the banks of the Lake Sheshnag and eventually left his son Ganesh at Mahagunas Parvat. He finally left 5 elements namely earth, air, water, fire and sky at Panjtarni.
After his arrival at Amarnath, Lord Shiva seated himself on the deerskin and took his Samadhi to ensure that no one could hear his secret. He created Rudra and Kalagni who'd eliminate all traces of life in the vicinity of the cave.
But an egg escaped his eye and remained under his deerskin. A set of pigeons emerged from that egg which is said that those two pigeons became immortal simply because they heard the tale of immortality.